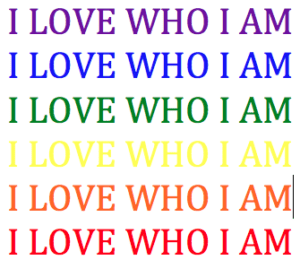 My all-time favorite affirmation is I LOVE WHO I AM. No matter where I am or what I am doing, this statement always brings me back to center. It's like a homing device.
Build a relationship with the phrase by using it in meditation. Try saying it with each inhalation. Observe what shifts in your body and your mind.
Say it when you feel like you are being verbally attacked instead of taking in another person's anger. It is so important to remember that people project their issues; this is a tool that can align you with your truth and not theirs.
Say it when your sad or scared. Stability usually comes through.
I LOVE WHO I AM I LOVE WHO I AM I LOVE WHO I AM I LOVE WHO I AM I LOVE WHO I AM I LOVE WHO I AM